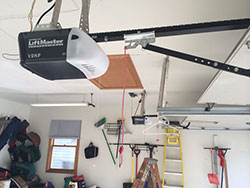 Garage door openers come in four different types. There is the chain, belt, screw, and torsion drives. Each has its own advantage and disadvantage. Clearly understanding what differentiates them will help you pick the right model for your garage. These are only the general specifications. For further details about the different openers contact a garage door company in Sachse.

Chain Drive

Chain-drive garage door openers are the oldest style. Many households have them installed. Its loud noise offers the benefit of alerting homeowners when the garage is open. However, it can be quite disturbing if its location is right next to or underneath a bedroom. As far as price is concerned, they are usually the cheapest, being no more than around $150-$200.


Belt Drive

The belt-drive opener makes the least amount of noise. Its mechanism operates by a rubber belt instead of a chain. All other components are fairly the same as the chain-drive. This is the best option when the garage is near a bedroom or in an area where noise is an issue. Their price range is about $250-$260.

Screw Drive

The screw-drive is considered a value because the price is not too far from the cost of a new chain-drive garage door opener. Also, it requires less maintenance because ofits minimal moving parts as opposed to the others, plus it makes less noise than the chain-drive opener.

Torsion-drive

Torsion-drive is the latest model to hit the garage door industry. This one is most suitable for low ceilings. It is positioned over the door instead of in the middle of the ceiling. It connects to the door's torsion spring shaft. One of the advantages is that it requires no garage door track, offering up to 8-inches of more overhead space. This type of opener is ideal for taller vehicles such as SUVs.